Information leak can be dangerous. Yes with growing communication and information disperse, it can lead to serious consequences. Internationally Paper shreddering machine is an ideal tool to protect information from falling in wrong hands.
Paper shredders can help your organization manage all your waste, useless documents finding a clear and secured trash. It also helps you organize all your document wastes properly shredded and disposed. Dependable shredders can save you from the risks of theft of information, scrupulous design copies, etc.
Our shredders have some of the most uncommon features
Totally Mute shredders emitting Zero Noise even during operation
Rigid Steel gears with sharpened blades gives long life cutting performance.
Heavy duty motor that can take right load for years together.
Power efficiency due to electronic control of the Shredder.
Faster shredding due to higher RPM.
Elegant Aesthetic look which suits corporate and business offices.
ISO, CE & RoHS Certified.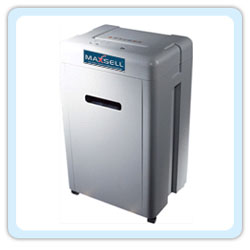 Throat Width :240mm
Shredder Size :2 mm x 10 mm (Micro Cross Cut)
Maximum Shredding Speed :16 sheets / 1 CD
Type:Cross Cut (Micro – High Security)
Shredding Speed :3.8 Mtr / Minute (fastest In its class)
Waste Bin Capacity :27lts
Voltage :220 V
Power :300 Watt
Dimension :400 x 310 x 650
Net Weight :22 kg
Safety features :Thermal Shutdown on Overheating.